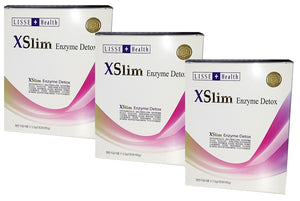 原價:  HKD 2,427 / 3 盒
特惠價格:  HKD 2,222 / 3 盒
Includes: 30 XSlim Enzyme Detox packets, 5.5 grams packets
Designed for: poor intestinal function
All the natural extracts used in this new product enhances intestinal motility. The product aims to remove harmful toxins that food may contain from GMOs or enhanced animal products. By removing toxins from the intestine, constipation, indigestion, acid reflux, or stomaches pose less of a threat to your health. 
Active substances
psyllium husk
fermented wheat powder (wheat, sugar, salt)
sesame meal
yeast hydrolysate powder
kelp powder
ulmus pumila powder
arrowroot powder
aloe extract powder
ginger extract powder
zanthoxylum schinifolum powder
glucomannan
lactic acid powder
strawberry essence
stevia
Performance
enhance intestinal motility 
improve intestinal immune system
relieve toxins from food
resolve constipation
improve body health
Application: Consume 1-2 packets each day before dinner with sufficient amount of water. Continuous routine will result in continue healthy intestinal motility.
Enquiry and Registration Hotline: +852 2116 9888
WhatsApp: +852 6114 5551
Lisse Elite Club VIP WhatsApp: +852 6670 3628
WeChat: lisse_hk
Website: www.lisse.com.hk